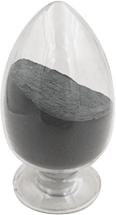 Molybdenum Disulfide
Molybdenum disulfide is a solid lubricant, known as the "king of solid lubricants". It is silvery black powder. It is widely used as a dry lubricant because of its low friction and robustness.
Molybdenum disulfide can be added in grease to increase the lubricity and extreme pressure of grease. Molybdenum disulfide can be used in high temperature, high pressure, high speed and high load environment to extend the life of equipment.
The main function of molybdenum disulfide is to reduce friction at low temperature, increase friction at high temperature, and reduce burning loss.
Properties:
Formula: MoS2
Density: 4.5-4.8 g/cm³
CAS No.: 1317-33-5
Moh's hardness: 1-1.5
Friction coefficient: 0.03-0.05
Temperature endurance: -180℃-400℃
Pressure resistance: around 30000 kg/cm²
Chemical stability: strong corrosion resistance, except nitric acid, aqua regia and boiling hydrochloric acid.
Molybdenum Disulfide Specification:
Shenyu Molybdenum usually produces molybdenum disulfide in four grades- Super Fine grade, Technical Fine grade, Technical Grade and Large Particle grade. Molybdenum disulfide can also be customized according to customer's requirements.
Specification

Large Particle

Technical Grade

Technical Fine

Super Fine

MoS2 % (min)

98.0

Median Particle Size

D50 in microns

16.0-30.0

12.0-16.0

3.0-6.0

1.1-1.5

Acid Insoluble% (max)

0.50

0.50

0.50

0.50

MoO3% (max)

0.05

0.05

0.10

0.15

SiO2 % (max)

0.10

0.10

0.10

0.10

Iron% (max)

0.25

0.25

0.25

0.25

Water% (max)

0.10

0.10

0.10

0.15

Oil% (max)

0.40

0.40

0.40

0.40

Carbon% (max)

0.50

0.50

0.50

0.50

Acid Number

0.05

0.50

0.50

2.0